UNFORTUNATELY, TASSIRIKI RANCH HAS CEASED OFFERING BEACH TRAIL RIDING. WE ARE SORRY TO DISAPPOINT.
Beach Trail Rides near the Gold Coast (No longer available).
Don't waste your time looking elsewhere, you've just found the only weekend beach trail rides operating between Port Macquarie and Noosa Heads!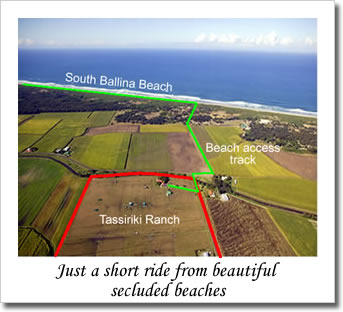 You're on the Gold Coast and looking for a place where you can go horse riding? Well you just found gold! How does horse riding on the beach sound?
Located just 75 minutes drive south of the Gold Coast, Tassiriki Ranch is a 40 acre horse ranch just 800 metres from Beautiful South Ballina Beach.
We offer 1.5 and 2 hour guided beach rides for couples, families, and friends, and operate 7 days per week. Our Group Beach Rides are limited to 6 riders so you won't get lost in the crowd and our Couples Beach Rides are perfect for couples celebrating a special occasion or just wanting some quality time together.
You don't have to be staying at Tassiriki Ranch to have a beach ride but a short Stay & Ride Holiday is a handy option for an overnight break from the busy Gold Coast. We can even offer packages to reduce your preparations and increase your enjoyment.
Our business is fully accredited so you know you are dealing with professionals and riding well-maintained horses.