Sightseeing & Horse Riding Tours (For groups of 4-6 persons).
Why not gather some friends together and combine a sightseeing tour along the coast with a visit to an award winning horse ranch and experience boutique horse riding on uncrowded pristine beaches.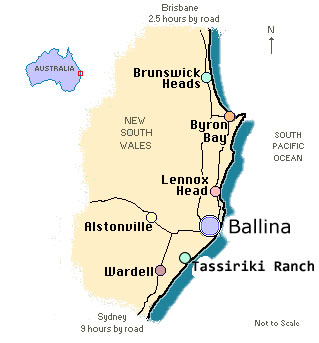 Our half-day tours are designed for travelers who do not have their own transport and require pickup from their place of accommodation in Byron Bay, Lennox Head, and Ballina.
Our half day tours depart from Byron Bay and follow the coast road south passing through the beachside towns of Suffolk Park, Lennox Head, and Balllina. On the way you have the opportunity to see some of the most popular surfing beaches on the New South Wales North Coast.
From Ballina your tour crosses the Richmond River by car ferry to little-known South Ballina. A short drive alongside the Richmond River brings you to Tassiriki Ranch. On arriving you are greeted by owners Chris and Helen who will ensure you enjoy your visit to their horse ranch.
After you are fitted with a safety helmet and riding boots you mount your horse in a secure mounting paddock and watch a brief horse riding demonstration by our accredited Trail Guides. You then have an opportunity to test your riding skills in our safe mounting paddock before heading off to the beach. On the way to the beach you walk your horse past tall sugar cane fields and on through the coastal bush reserve. As your ride reaches the top of the sand dunes you pause to take in the sight of this seemingly endless pristine beach stretching some 32 klms from Ballina in the north to Evans Head in the south. Riding onto the beach and down to the water's edge you pause for a quick photo opportunity and then you're off riding along a beautiful beach. During your ride you will keep an eye out for sea eagles soaring overhead, dolphins playing in the surf, at at times migrating whales broaching just off-shore (June to November). Your beach ride returns to the ranch by the same route. Back at the ranch you're invited to relax in the covered BBQ area and soak up the country atmosphere while enjoying complimentary refreshments and some nibbles. The return trip to Byron Bay again follows the coast road for another chance to explore the great beaches along the way with a brief stop at popular Pat Morton's scenic lookout.
These half day tours are suitable for riders of beginner to intermediate riding ability and cater to a maximum of six guests so you wont get lost in the crowd as happens on some other tours and you are assured of an experience of a lifetime. Here's some comments from our past guests:
"This is a really great place, the ride on a deserted beach was a fantastic experience." - Tino & Marlies - The Netherlands.
"Thanks for fulfilling a dream to ride on the beach. Better than we could have dreamt." - Illes Family - Hope Island QLD.
RIDE TIMES
Tours operate 7 days a week. Actual ride times vary as we co-ordinate our rides with low tide on the beach. PLEASE NOTE: Beach rides are dependant upon suitable beach & weather conditions.
PICK-UP LOCATIONS
An air-conditioned min-bus picks you up from your place of accommodation anywhere along the route between Byron Bay and Ballina.
CONDITIONS
Minimum group size for tour bookings is 4 riders, maximum group size is 6 riders.
Minimum age 10 years.
Maximum weight 95 kgs.
Other Conditions apply.