Horseriding & Holiday Cabins - North Coast, NSW
If you're keen to experience horseriding on the beach, or just looking for a relaxing rural getaway, Tassiriki Ranch is the place for you. Located on the North Coast of New South Wales, on Australia's popular east coast, and only 75 minutes south of the Gold Coast and just a short drive from the popular seaside towns of Byron Bay, Lennox Head, and Ballina, Tassiriki Ranch is situated right in the middle of Australia's best surfing beaches. You can even bring your own horse!
Tassiriki Ranch offers cosy cabin-style holiday accommodation in a quiet rural environment with a variety of boutique horse riding activities featuring horse riding trail rides on secluded beaches.
Nestled amongst the cane fields on the North Coast of New South Wales just 15 minutes from the North Coast town of Ballina, Tassiriki Ranch occupies 40 acres of lush grasslands just 800 meters from secluded South Ballina Beach.
Horse riding activities are available to guests staying at the ranch (see Stay & Ride) as well as day-visitors. Guests with their own horses are welcome to bring them on holiday and experience a beachside horseriding holiday together.
Tassiriki Ranch also offers "quality care for your horse" with short-term and long-term agistment available in both shared paddocks and private stables.
Other activities nearby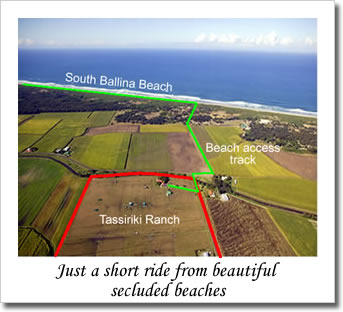 Tassiriki Ranch is located only 15 minutes from Ballina where you will find major supermarkets (Aldi, BigW, Woolworths, K-Mart, and Target), great steak and seafood restaurants, take-away food, and novelty stores. There's plenty to see and do in the Northern Rivers region. Tassiriki Ranch makes a great home base for your holiday exploring the local beaches, hinterland rain forests, and seaside towns. Take advantage of the following varied activities and facilities during your holiday:
4WD (Four Wheel Driving) on the beach 800meters from your cabin
Beach fishing 800meters from your cabin.
Boating on the Richmond River and estuary fishing 3klms away.
Surfboard riding and swimming at Byron Bay, Lennox Head, Bolder Beach, Flat Rock, Angels Beach, Ballina Beach, Evans Head.
Golfing at Ballina Golf Club or Teven Golf Club (9 hole course).
Dining out and shopping at Byron Bay, Lennox Head, Ballina, Alstonville
Whale watching on the beach (certain times)
Sightseeing the hinterland towns of Nimbin, Mulumbimby, Bangalow and more.
National Parks walks (Evans Head, Victoria Park)
For a calendar of regional activities - click here
For more things to see and do - Click here
Travellers looking for accommodation for your working or showing horses ?
Tassiriki Ranch is a great accommodation stop for horses on the move. Whether you're taking your champion to the races, or taking your pride and joy to a special equestrian event, a stop at Tassiriki Ranch gives horse and owner a welcome break on their way to their destination. Clean paddocks and stables keep your horse in tip-top condition while our self-contained cabins provide you with clean comfortable overnight accommodation. Why not stop for a couple of days and experience the thrill of horse riding on pristine South Ballina Beach.
Traveling by air and looking for a relaxing horse riding holiday?
Ballina's domestic airport is the gateway to the Northern Rivers region of New south Wales. Three major airlines, Virgin Blue, Jetstar, and Regional Express each operate regular flights into and out of Ballina Airport located just 20 minutes from Tassiriki Ranch. Transfers to and from the airport can be arranged.
Looking for affordable car hire in Ballina ? - Click here