UNFORTUNATELY, TASSIRIKI RANCH HAS CEASED OFFERING BEACH TRAIL RIDING. WE ARE SORRY TO DISAPPOINT.
Group Beach Rides for Families & Friends (No longer available)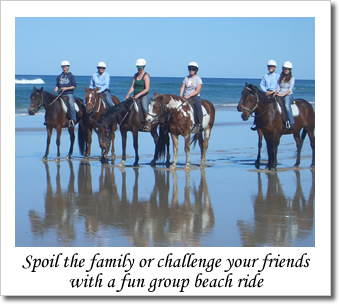 Are you looking for a fun family or group experience? Come and experience the pristine natural beauty of South Ballina Beach on a guided beach trail ride.
Bring your family or friends along for a unique horse riding experience. Share the fun and challenge of horse riding along beautiful beaches on well mannered horses with our experienced trail guides ensuring your ride proceeds safely.
Prior to commencing your trail ride your Trail Guides will match your riding ability with one of our well-educated trail riding horses. You will mount your horse in a secure fenced area and your guide will adjust the saddle for a perfect fit. Your guide will then brief you on horse control and the safety aspects of the ride. Then it's off to the beach!
Your trail ride leaves directly from the property passing through the cane fields and the coastal forest and down onto the beach. The ride then proceeds along the beach at a leisurely pace offering the opportunity to keep an eye out for dolphins surfing the waves, or even humpback whales splashing and spouting just off-shore (July-November). During the ride you will have the opportunity to walk your horse into shallow pools along the shoreline and ride your horse along this beautiful beach.
Our beach rides operate 7 days per week according to customer demand. Actual ride times will vary with the timing of low tide events in consideration of the threatened Pied Oystercatcher birds nesting on the beach. Read our Terms & conditions for horse riding.
"What an experience. Thank you so much, the horses and the company were absolutely fabulous" - Fleur & David - Sydney NSW. Read more testimonials... Check our rates...