NEWS
NEW FAMILY DEAL OFFER!
Definitely the safest way for your young family to experience a beach trail ride on our beautiful beach!
Save a minimum of $240!
(Min age 10 years)
Read more...
FORGOTTEN A
BIRTHDAY OR ANNIVERSARY?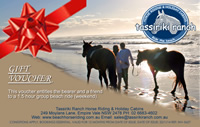 Our Gift Vouchers are the perfect gift for that special someone!
Read more...
HOLIDAY WITH YOUR OWN HORSE AND SAVE !
From $25/person/night!
Read more...
Tassiriki Ranch featured on popular afternoon kids TV show Totally Wild!
Read more...
Follow us for special offers
and HUGE SAVINGS!
Instructors now available for horseriding lessons!
Read more...
Check out our special offers on horse riding and accommodation!
Our Beach Rides rated "Eco-friendly"!
Read more...
Tassiriki Ranch beach rides featured on TV!
Watch the video...
Asia Spa magazine gives our rides the thumbs up!
Read more...
Our AHRC accreditation works for you!
Read more...